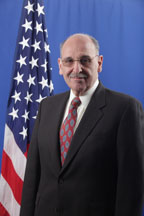 It is with great sadness that The Wicks Group shares news of the passing of John Barbagallo, TWG Senior Advisor. John passed away in Boca Raton, Florida on March 15, 2018, at age 66, due to cancer.
John joined The Wicks Group as a Senior Advisor in January, following a long and distinguished career with the Federal Aviation Administration (FAA). His work at FAA included field, regional office, headquarters, and international assignments, culminating in his final position at FAA as Deputy Executive Director, Flight Standards Field Operations. In that capacity, he provided executive direction and oversight for a diverse set of program areas, including international programs, regulatory support, unmanned aircraft systems, air transportation, aircraft maintenance, civil aviation registry, and general aviation. As a Senior Advisor at The Wicks Group, PLLC, John drew on his vast FAA experience to provide guidance to firm professionals and clients on air carrier, airport, and other regulatory matters.
John began his FAA career as an Assistant Principal Maintenance Inspector in the Pittsburgh Certificate Management Office in April 1990. He later served as the New York International Field Office Manager (1996-1998), Frankfurt International Field Office Manager (1998-2001), Assistant Manager of the International Policy Division (2001-2003) and Technical Branch Manager (2003-2010). Beginning in 2010, John served as Division Manager for the International Programs and Policy Division (AFS 50), where he had oversight of the IASA audit program, managed the development of policies and regulations governing foreign air operators and developed US positions regarding international safety oversight issues. During his FAA career, John also led inspectorate reorganizations, managed aspects of Unmanned Aircraft Systems program development, and initiated Bilaterial Aviation Safety Agreement Maintenance Implementation Procedures negotiations with several countries.
At John's passing, Glenn Wicks, TWG Managing Director said, "John as friend and mentor can never be replaced. John as a committed, knowledgeable regulator who committed his life to the IASA program and more broadly to aviation safety also can never be replaced."
The Wicks Group joins with John's family and his many other friends and colleagues in mourning his passing.