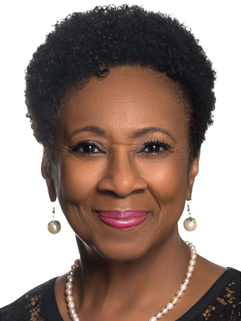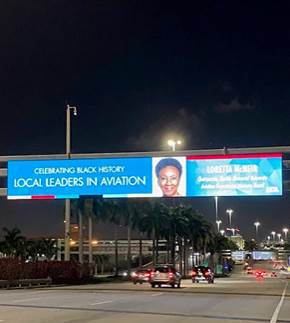 This week, TWG Senior Advisor Loretta McNeir was recognized as a Local Leader in Aviation as part of Miami International Airport's celebration of Black History Month. Along with publishing a story detailing Ms. McNeir's successful career as a global aviation security expert, MIA posted an electronic banner that greets passengers as they enter the airport campus.
MIA highlighted Ms. McNeir for her work as Chairperson of the Advisory Board for Florida Memorial University's Aviation Department, where she leads an 8-member board of industry professionals at South Florida's only Historically Black College and University (HBCU). As Chairperson, Ms. McNeir enjoys helping young people chart their own professional journeys in aviation.
"One of my goals in this role is to help the students obtain careers in aviation and find opportunities to soar," Ms. McNeir says.
In addition to her leadership at FMU, Ms. McNeir is a member of the International Women's Forum and the Women of Tomorrow Mentor & Scholarship Program in Miami, which inspires and empowers at-risk women through a group mentoring program that connects mentees with accomplished professional women and scholarship opportunities.
Ms. McNeir has made significant contributions to aviation security around the world during her 36-year career with the US Government. She formerly served as the US Transportation Security Administration (TSA) Attaché in Dakar, Senegal, responsible for an area that included 15 West African countries; as a Federal Aviation Administration (FAA) Regional Division Manager of International Civil Aviation Security in Brussels, Belgium, a region representing over 60 countries; as the TSA's Assistant Director for the Americas, responsible for aviation security regulatory oversight for approximately 100 airports; in aviation security planning for the Summit of the Americas in Trinidad and Tobago in 2009; as a technical advisor for the Pan Am World Games in Dominican Republic in 2007; and as project lead for airport security during the 1996 Olympics at the Atlanta Hartsfield International Airport. She is also the recipient of the Department of Transportation (DOT) Secretarial Award, which she was awarded for her work promoting opportunities for women and minorities in the Federal Aviation Administration (FAA) early in her career.
After retiring from her successful career in government service, Ms. McNeir joined The Wicks Group (TWG) in 2016 as a Senior Advisor, where she regularly advises the firm's airport, air carrier and foreign government clients on global aviation security matters.
TWG commends Ms. McNeir on her ongoing achievements and is proud to have her on our team. Congratulations Loretta!
For more information about The Wicks Group, please contact Glenn Wicks at gpwicks@wicks-group.com or at +1 (202) 457-7790.