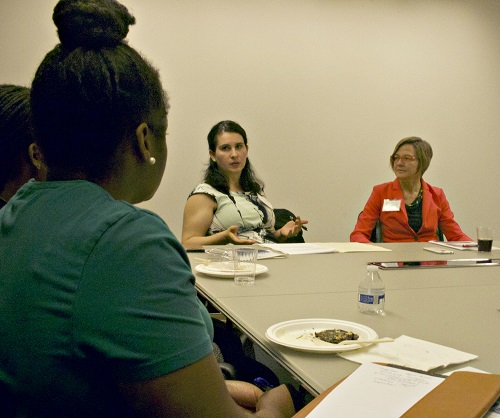 The Wicks Group (TWG) Associate Marina O'Brien participated on the "Careers in International Law" panel at the United Nations Association of the National Capital Area (UNA-NCA) on April 14, 2018. Ms. O'Brien shared with UNA-NCA's members her career path and provided current examples of her cross-border and international practice at TWG. During the panel session, Ms. O'Brien engaged with young professionals, answered their questions, and provided guidance and advice regarding her current and past experience practicing public and private international law.
As an Associate at TWG, Ms. O'Brien regularly represents and advises foreign and multinational companies, as well as U.S. businesses and aviation-related entities in meeting their civil aviation objectives. Ms. O'Brien is fluent in multiple languages, including Macedonian, Bulgarian, Serbian and Croatian. Prior to joining TWG, she was a consultant for the World Bank. Ms. O'Brien is a graduate of Georgetown University Law Center.
Throughout the two-hour panel, Ms. O'Brien described her international background, having worked and studied in multiple cities around the world, including Skopje, Brussels, London, and Beijing. She also spoke about her experience as an Associate at The Wicks Group, where she engages in international trade law, cross-border transactions, civil and commercial litigation, as well as matters related to regulatory compliance with international aviation safety standards and UN and U.S. sanctions.
TWG is a multi-disciplinary legal and consulting firm that provides specialized services to clients with aviation and transportation-related interests worldwide. TWG advises clients around the globe on achieving their civil aviation development objectives, whether achieving compliance with international regulatory standards or representing transportation-related clients in a broad range of legal matters.
For more information about TWG's legal services and aviation consulting practice, please contact Marina O'Brien at mvobrien@wicks-group.com or (202) 457-7790.