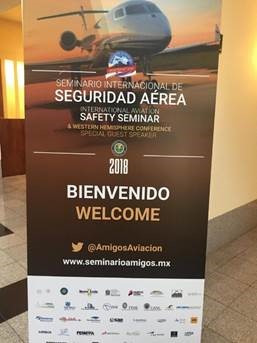 Last week, a delegation from The Wicks Group (TWG) participated in the 34th Amigos de la Aviación International Aviation Safety Seminar held February 14-16 in Monterrey, Nuevo León, Mexico.
Leading the delegation was Vincent Lepera, TWG's VP of Technical Services, accompanied by TWG Partner Michael P. Fleming and Senior Technical Consultant Yvette Hau Lepera.
The seminar, which has taken place annually since the mid-1980s, is a forum for aviation officials from the United States and Mexico, as well representatives from throughout Central and South America, to meet and collaborate on improving aviation safety throughout the region by fostering an open dialogue among government and industry stakeholders.
The seminar featured presentations by representatives from the U.S. Federal Aviation Administration (FAA) and Mexico's Directorate General of Civil Aeronautics (DGAC), Secretariat of Communications and Transportation, Office of Air Space Navigation and Del Norte International Airport. Speakers highlighted several important themes, including flight standards, pilot training, aircraft maintenance, oversight and surveillance as well as current regulatory challenges.
In addition to creating a forum for discussions among the region's aviation representatives, the seminar also provided a valuable opportunity for applicants to receive interviews and examinations for US private pilot and mechanic license validations, thereby eliminating the need to travel to the United States. The FAA recently authorized the countries in Central and South America to submit their U.S. license applications in Mexico.
Mexico has long been a principal aviation hub in Latin America, with the Mexico City International Airport managing 41.7 million passengers and over 396,000 tons of cargo in 2016 alone. With ongoing construction of the $13.4 billion Mexico City New International Airport, the country stands poised to house the world's third-largest airport by 2020.
The Wicks Group is a multi-disciplinary legal and consulting firm that provides a wide range of services world-wide to clients with aviation and transportation-related interests. The firm regularly assists countries with achieving their civil aviation development objectives, including coming into compliance with international safety standards, by providing specialized technical and management consulting services as well as legal counsel. TWG has a 100% success record in helping countries prepare for FAA IASA audits, with Category 1 ratings following all five projects completed since 2012.
For more information about The Wicks Group's services, please contact Glenn Wicks at gpwicks@wicks-group.com.