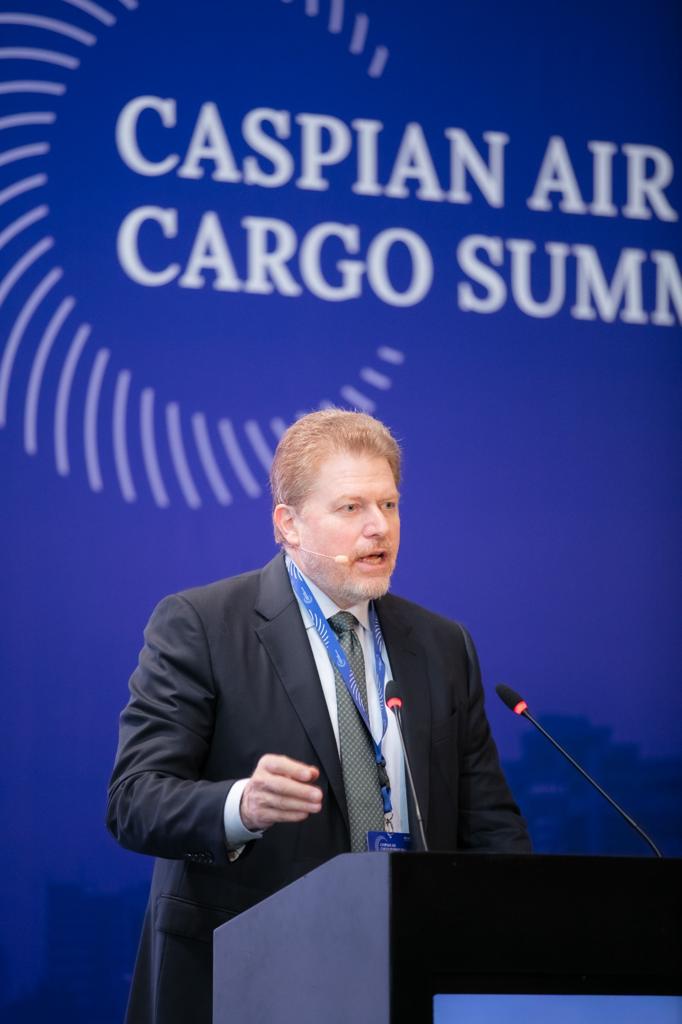 On October 22nd, Glenn Wicks, Managing Director and Ekaterina Grimes, Partner of The Wicks Group (TWG), travelled to Baku, Azerbaijan to participate in the ninth Caspian Air Cargo Summit. Mr. Wicks participated as the Conference chairman. The Summit, hosted by Silk Way West Airlines and held between Monday, October 23rd and Wednesday, October 25th, is international in scope, and included executives and representatives of major aviation businesses, aircraft manufacturers, logistics companies, and airlines from all over the world.
As Conference chairman, Mr. Wicks led discussions throughout the conference and moderated each of the panels during the conference. Among the twenty-two panelists were representatives and executives from companies such as Boeing, Rolls-Royce, GE, Embraer, Silk Way West Airlines, and Alibaba. The panels at the Summit covered a diverse range of topics concerning both the present and future of air cargo, such as the Europe-Asia tradelane, future trends in e-commerce, the future of cargo aircraft, and the development of sustainable supply chains.
The Summit concluded with a presentation by a representative of Silk Way West Airlines on the future development of a free economic zone and major air cargo center in Baku, Azerbaijan. This year marks the seventh time that Mr. Wicks has participated in the conference as the Chairman. TWG is honored to continue to participate in the conference, which demonstrates the substantial growth of aviation in the Caspian region.
Established in 1999 and based in Washington, DC, The Wicks Group assists drone operators with regulatory compliance and licensing. TWG also has decades of experience in providing technical assistance to civil aviation authorities (CAAs) worldwide, including but not limited to the CAAs of Angola, Bahrain, India, Panama, Guatemala, Cabo Verde, Rwanda, Azerbaijan, Ukraine, Saudi Arabia, Japan, China, Singapore, and Trinidad and Tobago. TWG's completed IASA consulting projects have produced a total of ten FAA Category 1 ratings to date – a 100% track record. In addition, TWG regularly assists foreign air carriers with obtaining the US government approvals needed for US air carrier operations and consults with foreign repair stations on securing FAA certification required to maintain US-registered aircraft.
For more information about The Wicks Group, please contact Glenn Wicks at gpwicks@wicks-group.com.