New Delhi, India- On August 31, 2017, The Wicks Group (TWG) partner Roncevert Almond, along with analysts Steven Kloos and Henry Phillips, participated in the US-India Aviation Cooperation Program (ACP) "Innovation in Aviation" Workshop, with India's Ministry of Civil Aviation on August 31, 2017 at the Hyatt Regency, New Delhi. With the support of the U.S. Embassy, the U.S. Trade and Development Agency, and the U.S. Federal Aviation Administration, the ACP supports the growth of the Indian civil aerospace sector by identifying and executing projects that encourage collaboration between American and Indian aviation stakeholders.
The Ministry of Civil Aviation, represented by Secretary Shri Rajiv Nayan Choubey, and the Directorate General of Civil Aviation, led by Director General B.S. Bhullar, led the dialogue with ACP members to identify innovative technologies and solutions for addressing India's aviation industry, which has been among the fastest growing markets in the world.
After opening remarks from Patrick Santillo, Minister Counselor for Commercial Affairs at the U.S. Embassy in Delhi, and Tom Miller, FAA Senior Representative to South Asia, and the keynote address from Secretary Choubey, ACP members gave their proposals. In addition to TWG, participants heard from senior representatives from: Boeing, GE Aviation, Hi-Tec Systems, Honeywell, L-3 Aviation, Landrum & Brown, Morpho Detection, Rockwell Collins IMS, Textron and United Technologies. Each ACP member focused on bringing innovative technology to the Indian aviation sector, while also promoting "Make in India."
During Mr. Almond's presentation, on behalf of TWG, he focused "Skilling India" – the need to address the demand for qualified aviation professionals in a market undergoing dramatic growth. In particular, Mr. Almond highlighted the fact that in order to obtain the goal of the 2016 National Civil Aviation Policy to become the world's third largest aviation market, India will need to train, license and oversee far more aviation personnel than it does today – from pilots to engineers to other professionals. In turn, he observed International Civil Aviation Organization (ICAO) requires that inspectorate staff enjoy conditions of service and remuneration consistent with their education, technical knowledge and experience and comparable to those personnel of the operator whose activities they will inspect and supervise. To that end, Mr. Almond strongly urged the Secretary Choubey and the Ministry to continue to strengthen the financial and organizational support for the DGCA. In particular, he stressed the need for the DGCA to continue to hire technical personnel that can enable the civil aviation authority to adequately oversee the rapid expansion of India's aviation environment.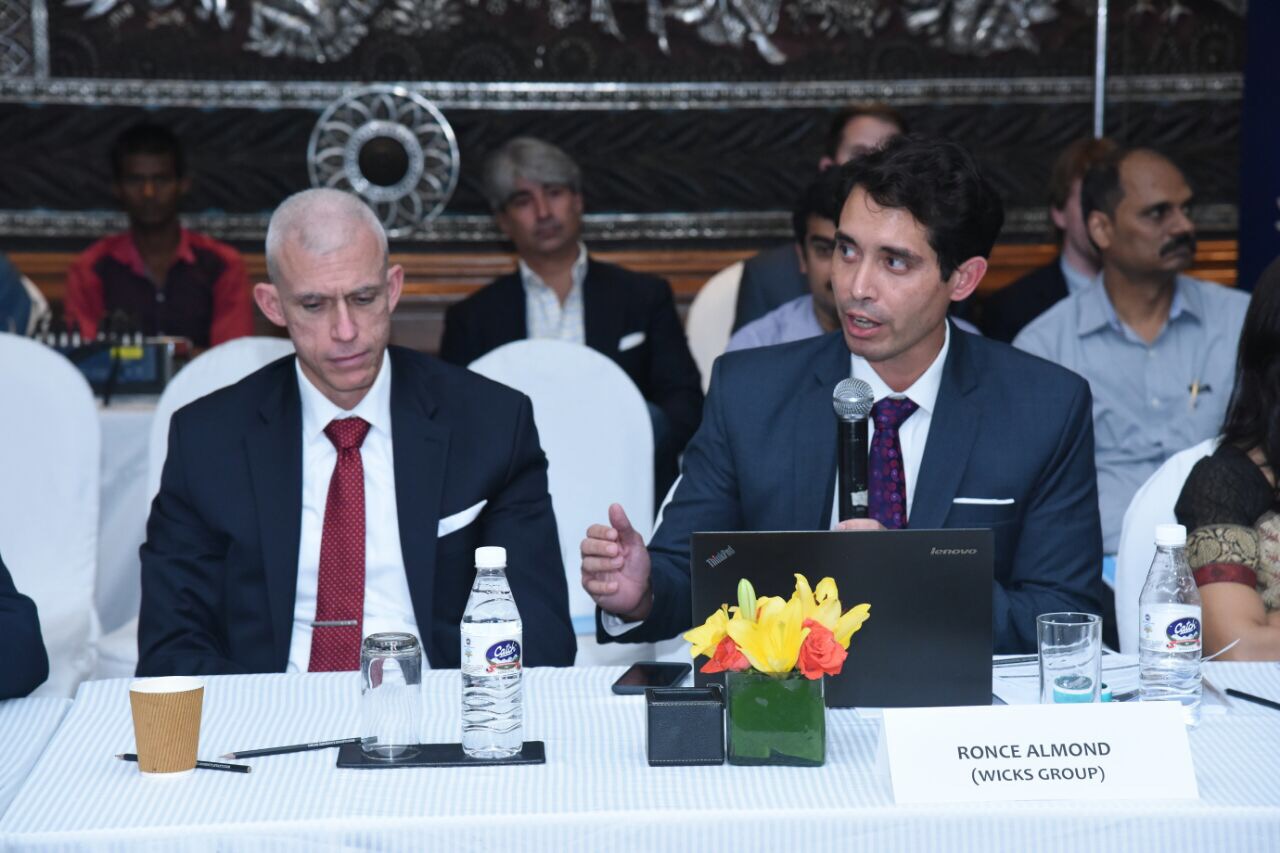 Above: TWG Partner, Roncevert Almond, addresses the ACP Workshop
In response to the presentations, Secretary Choubey identified follow-up actions for the proposals and agreed to hold an additional meeting with workshop participants. Following this, Mehnaz Ansari, USTDA's Country Representative for South Asia, gave her closing remarks and expressed enthusiasm over the innovative technologies presented.
TWG has worked closely with both the DGCA and USTDA in India since 2014, when it entered in joint contract, Indian Aviation Safety Project Phase I, to help India regain Category 1 status under the FAA International Aviation Safety Assessment (IASA) Program. Since India's restoration to Category 1 in 2015, TWG has continued working with the DGCA and USTDA under Indian Aviation Safety Project Phase II, a continuation of TWG's efforts to provide technical assistance to the DGCA within the Ministry of Civil Aviation.
For more information about The Wicks Group's participation in the ACP and provision of ICAO-related technical assistance, please contact Glenn P. Wicks, Managing Director, or Ronce Almond at (202) 457-7790 (Office) or via email at gpwicks@wicks-group.com and ralmond@wicks-group.com, respectively.