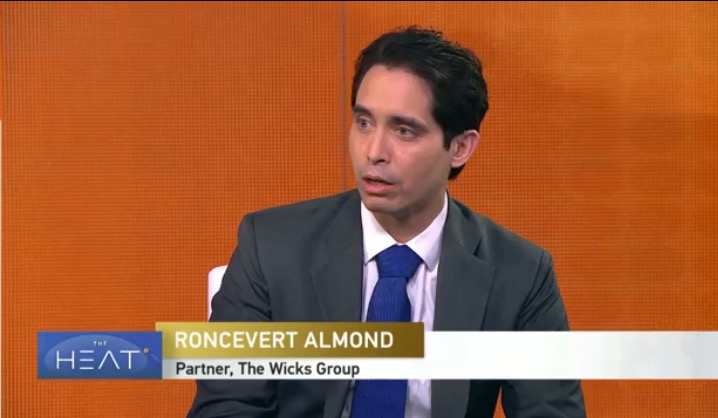 On February 2, 2017, Roncevert (Ronce) Ganan Almond, a partner and vice-president at The Wicks Group, appeared on The Heat, the current affairs show of CGTN America – the news channel run by Chinese state broadcaster China Central Television – to discuss the future of the China-Philippines bilateral relationship and its impact on the United States, particularly under the new leadership of Presidents Rodrigo Duterte and Donald Trump. The political talk show is hosted by the award-winning journalist Anand Naidoo, formerly of CNN World and Al Jazeera. To view the TV program please visit http://america.cgtn.com/2017/02/02/the-heat-china-philippines-ties.
Mr. Almond is a recognized authority on world politics and international law. In addition to his television commentary, Ronce has written extensively on international affairs and national security issues for publications such as the Harvard National Security Journal, Columbia Journal of Transnational Law, Fletcher Forum of World Affairs, Turkish Policy Quarterly, and International Law News. Ronce also serves as a contributor to The Diplomat, a current-events journal covering the Asia-Pacific, on the Editorial Board of The Air and Space Lawyer – the leading publication for legal practitioners in the field. His work has been cited by the U.S. Congress, national and foreign media, think tanks, and academic books and journals.
Ronce was joined on The Heat by Chen Xiaochen, a researcher at the Chongyang Institute for Financial Studies at Renmin University of China, Song Zhang, chief correspondent with Shanghai Wen Hui Daily in Washington D.C., and Reuben Mondejar, associate professor at the City University of Hong Kong.
According to Mr. Almond, with the 2016 election of President Duterte, old assumptions in the U.S.-Philippines security alliance are being questioned. The surprise U.S. election of President Trump has also added a new element of ambiguity in the Asia-Pacific. Following the controversial comments of Secretary of State Rex Tillerson during his Senate nomination hearing, the new White House is seeking to calm the waters in the South China Sea. Ronce notes that the warming of relations between China and the Philippines may shape the Trump administration's next move in the region.
For media inquiries and more information on The Wicks Group's world-wide legal practice and consultancy please contact Ronce Almond via telephone at (202) 457-7790 or email at ralmond@wicks-group.com.