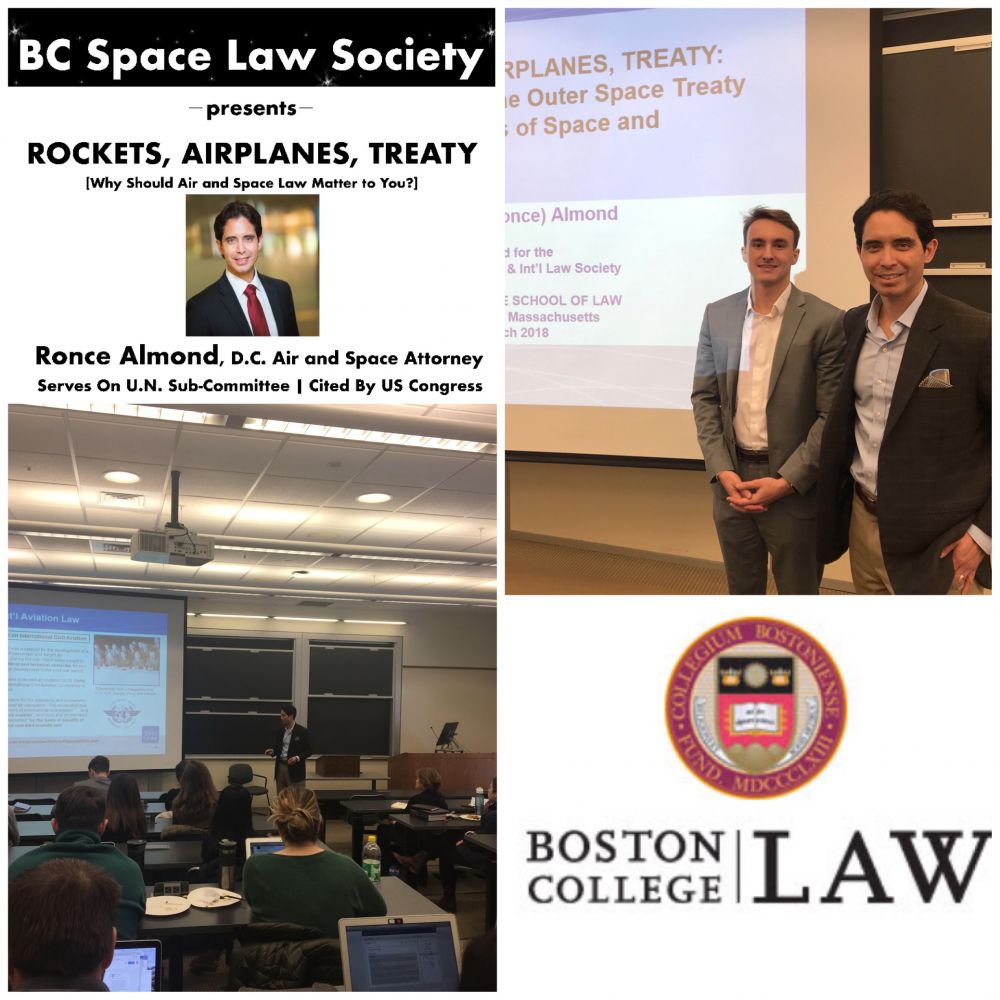 On March 20, 2018, Roncevert (Ronce) Almond, Partner and Vice-President at The Wicks Group (TWG), gave a lecture at Boston College Law School entitled "Article VI of the Outer Space Treaty – at the Nexus of Space and Aviation Law." The BC Law Space Law Society and International Law Society co-sponsored the event, which brought together law students and Boston-area academics interested in the developing field of law governing commercial space and the new space era.
Mr. Almond discussed the dynamic legal context being shaped by new commercial space activities such the BFR system proposed by SpaceX's Elon Musk to transport people to Mars and on point-to-point trips on Earth. He noted that the increased "re-usability" of space flight vehicles will not only lower the cost and increase the pace of space operations, but also shape the legal rules governing space activities. The same is true for novel endeavors such as the asteroid mining proposed by pioneering companies like Planetary Resources. According to Mr. Almond, part of the future debate on commercial space will center on Article VI of the Treaty on Principles Governing the Activities of States in the Exploration and Use of Outer Space (1967).
In his comments at BC Law, Mr. Almond observed that there are lessons to be derived from the growth of commercial aviation following World War II and the development of international aviation law, particularly with regard to establishment of legal regimes and enforcement mechanisms for national space activities, whether carried out by governmental or non-governmental (private) entities. In elaborating on this point, Mr. Almond drew upon his work at TWG in assisting governments across the world with developing regulatory oversight systems. He also identified novel challenges for space law related to emerging technology, jurisdictional disputes, compliance incentives, institutional capacity, and increasing disorder in international relations.
In discussing the practice of space law, Mr. Almond relayed his experience assisting the Virginia Commercial Space Flight Authority with facilitating commercial space launches at Wallops Island under NASA's Commercial Orbital Transportation Services ("COTS") program and the newly approved missions under NASA's Commercial Resupply Services ("CRS") contracts. The COTS and CRS programs fund commercial space operations that resupply the International Space Station and are designed to develop new space launch capacity within the United States.
Mr. Almond's lecture follows his presentation toe the International Astronautical Congress, organized by the International Astronautical Federation, International Academy of Astronautics and International Institute of Space Law. Mr. Almond also serves on the Editorial Board of The Air and Space Lawyer – the leading publication for space law practitioners – and as a regular contributor to The Diplomat, a current-events journal for the Asia-Pacific region. He has also written extensively on international affairs, national security and public policy issues for academic publications at Yale, Harvard, Columbia, and the Fletcher School of Law and Diplomacy, among others.
His written publications have been cited by the White House, U.S. Congress, national and foreign media, think tanks, and academia. Most recently, Curtis A. Bradley and Jack L. Goldsmith, of Duke and Harvard law schools, respectively, cited Mr. Almond's work in their article on presidential control over international law in the March 2018 edition of the Harvard Law Review, the legal field's most prestigious journal.
In addition to advising space ports, as noted above, TWG has assisted private space operators in complying with federal law and regulations. For more information about TWG's work related to space law, please contact Mr. Almond at (202) 457-7790 or at ralmond@wicks-group.com.